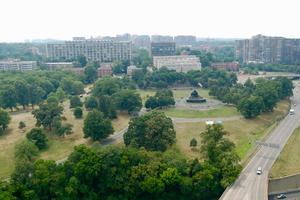 NPS Seeks Public Comments on a Proposed Comfort Station near the U.S. Marine Corps War Memorial
The National Park Service (NPS) is in the pre-planning stages for building a comfort station facility near the U.S. Marine Corps War Memorial (Memorial), at Arlington Ridge Park in Arlington County, Virginia.
The proposed project would construct a 1,200 square-foot comfort station facility near the Memorial to replace several portable toilets currently being utilized on site. Concepts are being designed to make the smallest possible imprint on the landscape and the facility will be removed from the nearby Memorial, while still remaining visible and easily accessible to the public. The comfort station would include two restrooms (male and female) with low-flow fixtures. It would also contain a small visitor contact station, a water bottle filling station, janitor closet, and sewer lift station. The project will improve the outdoor lighting for wayfinding and security of the facility.
The NPS encourages public participation throughout the planning process. As part of this effort, the NPS will determine the appropriate compliance pathway for this project related to the new comfort station. The NPS is in the pre-planning phase for this project, which occurs prior to formal initiation of the NEPA process. The NPS invites the public to submit written suggestions, comments, and concerns regarding the design for the comfort station through the Planning, Environment, and Public Comment (PEPC) website listed below.
You can submit your comments and find more information about the project at the park's PEPC website at
http://parkplanning.nps.gov/gwmp
. Please be aware that your entire comment will become part of the public record. If you wish to remain anonymous, please clearly state that within your correspondence or minimize identifying information; however, NPS cannot guarantee that personal information (i.e. email address, phone number) will be withheld.
The NPS will also accept comments via mail to:
Alexcy Romero, Superintendent
700 George Washington Memorial Parkway
c/o Turkey Run Park
McLean, VA 22101
Attn.: U.S. Marine Corps Memorial Comfort Station Project.
The opportunity to provide public comment to support the development of this project is open beginning September 17, 2018 and will close October 17, 2018.
Comment Period:
Closed Sep 17, 2018 - Oct 17, 2018

Document Content:

GWMP_231335_New Comfort Station Figures_09.05.2018.pdf
(14.4 MB, PDF file)
Disclaimer:
Links within the above document(s) were valid as of the date published.
Note:
Some of the files may be in PDF format and can be viewed using the Adobe Acrobat Reader software. You may download a free copy of
Acrobat Reader
from Adobe Systems.