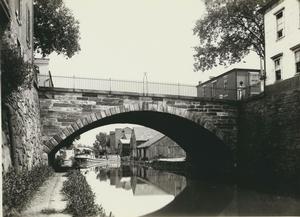 April 4, 2019 - Refined Design Concepts for the C&O Canal in Georgetown; Public Comment Period Now Open
Since the last public meeting held in November 2017, Georgetown Heritage and the National Park Service have developed an interpretation and education plan for the Georgetown section of the C&O Canal, which, in addition to prior public comments, has greatly informed revised concepts.
During the public meeting on April 4, 2019, the Georgetown Heritage and the National Park Service presented revised design concepts for the Chesapeake and Ohio Canal National Historical Park through Georgetown. Following the presentation, attendees were invited to provide reactions and discuss the refined concepts.
The presentation and the display boards can be downloaded below and are open for comment until May 11, 2019. The National Park Service and Georgetown Heritage look forward to hearing reactions to these refined concepts.
In addition to hearing your specific comments on the refined concepts, we would like to get your input on the 3 questions listed below.
The project vision and goals are listed below:
Vision:
As partners, enhance the Georgetown section of C&O Canal National Historical Park as a dynamic, urban national park that provides each person with a memorable and enriching experience.
Goals:
1. Respect, celebrate, and interpret the Canal's historic character, authenticity, and sense of place.
2. Rehabilitate and reveal the Canal's historic structures and cultural landscapes for the enjoyment and interpretation of current and future generations.
3. Improve safety throughout the Georgetown section of the C&O Canal.
4. Increase accessibility and public access to and throughout the Georgetown section of the C&O Canal.
5. Build and sustain the capacity of the Canal to serve as a living classroom and ensure equitable access to education and interpretation.
6. Incorporate an array of programming for discovery, recreation, and reflection to be enjoyed by broad and diverse audiences.
7. Balance resource stewardship with creating unique experiences.
8. Establish meaningful connections to, and enhance the integration with the surrounding community, including the entirety of C&O Canal National Historical Park, Rock Creek Park, and other nearby public spaces, trail systems, and pedestrian and street networks.
9. Provide essential amenities such as signage, gathering spaces, restrooms, trash and recycling bins, and drinking fountains.
10. Leverage opportunities to incorporate sustainability, climate adaptation, and resilience.
11. Ensure that the project is financially sustainable and managed cooperatively, efficiently, and responsibly; underpinning long-term viability and relevance.
Comment Period:
Closed Apr 4, 2019 - May 11, 2019
Topic Questions:
1. Does this achieve the Vision & Goals?
2. Is there a missed opportunity?
3. What is most exciting about the proposed designs?

Document Content: