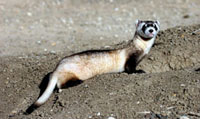 Reintroduction of Endangered Black-footed Ferrets to Wind Cave National Park
Wind Cave National Park is initiating the planning process to prepare an Environmental Assessment (EA) written for the reintroduction of Black-footed ferrets.
During this early stage in the planning process, the park is seeking public comments to determine issues involved with the plan and possible alternatives.
Comments received will be used to develop alternatives to be addressed in the EA. Once the alternatives are developed, there will be another comment period and an open house to review the draft plan.
Comment Period:
Closed 07/13/2006 - 08/17/2006

Document Content:
No files have been uploaded for this document.