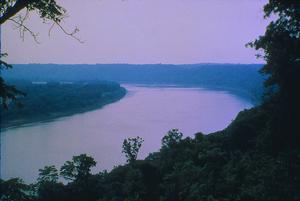 Final Lewis and Clark National Historic Trail Extension Study and Transmittal Letter to Congress from the Secretary of Interior
The National Park Service (NPS) is pleased to announce the completion of the Lewis and Clark National Historic Trail Extension Study, also known as the Eastern Legacy study. The Secretary of the Interior transmitted the final study to Congress on February 27, 2018. The final study and transmittal letters are available in the "document list" tab to the left of this text.
The current designated trail covers about 3,700 miles and runs through 11 states. A congressionally directed study of additional "Eastern Legacy" trail segments and historic sites through 14 states found that three additional trail segments related to Lewis and Clark's preparations for the "Corps of Discovery" expedition meet the criteria of the National Trails System Act to be added to the existing trail, if their partnership potential can be realized.
Specifically, the three routes found to meet the National Trails System Act criteria are: the Ohio River from Pittsburgh, Pennsylvania, to Louisville, Kentucky,; the Ohio River from Louisville to its confluence with the Mississippi River (near present day Cairo, Illinois); and the Mississippi River from its confluence with the Ohio River to Wood River, Illinois. The remaining 22 study routes, covering additional preparation and return activities, were not found to meet the criteria for addition to the National Historic Trail, but could be recognized at the state and local level.
The National Park Service's work on the study is complete at this time. No additional research or management activities in the study area will be undertaken unless the Lewis and Clark National Historic Trail is formally extended. The NPS will continue to work with partners and the public to administer the existing trail.

Document Content:

Final Lewis and Clark NHT Extension Study.pdf
(14.0 MB, PDF file)

Department of Interior Transmittal Letter to Congress_Lewis and Clark NHT Extension Study_2.27.2018.pdf
(243.0 KB, PDF file)
Disclaimer:
Links within the above document(s) were valid as of the date published.
Note:
Some of the files may be in PDF format and can be viewed using the Adobe Acrobat Reader software.
You may download a free copy of Acrobat Reader from Adobe Systems.