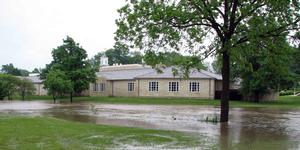 Restore and Stabilize Hoover Creek for Flood Mitigation Environmental Assessment
An Environmental Assessment for the Restore and Stabilize Hoover Creek for Flood Mitigation proposed project is now available for comment.
The National Park Service proposes to restore and stabilize Hoover Creek for flood mitigation at the Herbert Hoover National Historic Site (NHS). This project would provide the ability to better manage flood protection for frequent flood events within the NHS, with consideration given to natural resources and historic resources. This project would aid in the restoration of the riparian and proper functioning conditions along Hoover Creek in accordance with the General Management Plan/ Environmental Impact Statement for the NHS. Components of this project includes a flood storage detention basin, stream channel improvements to Hoover Creek, replacement of the Downey Street bridge for increased flood capacity, reconstruction of an historic retaining wall, and sanitary sewer relocation. In addition, excess soil from project work will be used to create sound mitigation berms in the reconstructed prairie that will help dampen sound along Interstate 80.
Through February 18, 2019 the public is invited to share their thoughts on the project. You may download a copy of the Environmental Assessment, which describes the project. We invite you to comment on this Environmental Assessment during the 14-day public review period. The preferred method of providing comments is through the parks Planning, Environment and Public Comment (PEPC) website at
https://parkplanning.nps.gov/HEHO
. You may also submit written comments by February 18, 2019 to the following address:
Superintendent, Herbert Hoover National Historic Site
PO Box 607
West Branch
Iowa 52358
ATTEN: Restore and Stabilize Hoover Creek EA
NOTE: Before including an address, phone number, email address or other personal identifying information in your comment, you should be aware that your entire comment including your personal identifying information may be made publicly available at any time. While you can ask us in your comment to withhold your personal identifying information from public review, we cannot guarantee that we will be able to do so.
Comment Period:
Closed 02/04/2019 - 02/18/2019

Document Content: