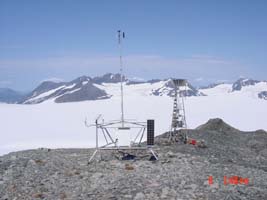 Environmental Assessment on the Climate Monitoring Program for KATM, KEFJ, and LACL
The National Park Service is considering expansion of the remote automated weather station (RAWS) network in three of the Southwest Alaska Network (SWAN) Parks: Katmai National Park and Preserve (KATM), Kenai Fjords National Park (KEFJ), and Lake Clark National Park and Preserve (LACL. The proposed action would expand the RAWS program by establishing additional stations to collect basic climatological data including air and soil temperature, precipitation, relative humidity, wind speed and direction, solar radiation, and snow depth.
New permanent RAWS would be established at as many as six locations in KATM, three locations in KEFJ, and four locations in LACL.
Comment Period:
Closed 02/27/2008 - 03/28/2008

Document Content: