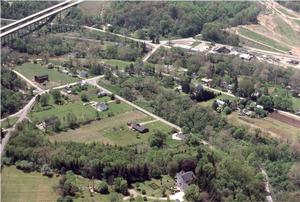 Boston Mills Area Conceptual Development Plan/EA
The National Park Service (NPS) has completed a Conceptual Development Plan and Environmental Assessment (EA) that analyzes the potential impacts of upgrades to visitor and employee facilities in the Boston Mills Historic District and nearby areas.
The EA includes an analysis of three Alternatives which are different visions for the future of NPS facilities in the Boston Mills area, including a No Action (status quo) Alternative and two Action Alternatives. Additionally, for each Action Alternative, three Options for the potential use of the historic Zielenski Court property (a potential future NPS acquisition) as a new public use facility were evaluated.
The NPS has identified Alternative 3, Option B as its Preferred Alternative. This alternative includes substantial changes to the Boston Mills Area in order to focus on improving pedestrian movement and safety, concentrating parking outside of Boston's center, and restoring natural features. The NPS would seek to acquire Zielenski Court and transform it into the park's main visitor orientation center with associated amenities including a welcome plaza and pedestrian bridge over the Cuyahoga River. The alternative also includes new parking areas paired with the closure of some existing lots, improved walking paths, a short interpretive trail loop, moving Boston Station, the restoration of native meadows, forests and streams, and expanded camping opportunities.
The document is available for download below. Appendix D is provided as a separate file.
A Statement of Findings (SOF) in compliance with Director's Order 77-2: Floodplain Management is included as Appendix F of the EA.
Public input is a valuable component of our planning process. The public is encouraged to comment on this document. Click "Comment on Document" at the top left of this page to provide your input.
Errata (Posted 9/17/12): A corrected Figure 6 is posted below.
Comment Period:
Closed 08/30/2012 - 09/30/2012

Document Content: