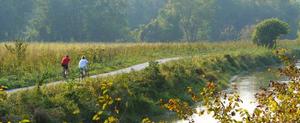 Final Trail Management Plan & Environmental Impact Statement
The National Park Service announces the availability of the Final Trail Management Plan and Environmental Impact Statement for Cuyahoga Valley National Park. The U.S. Environmental Protection Agency Notice of Availability (NOA) for the FEIS issued May 3, 2013 in the Federal Register, officially begins the 30-day no action period before final approval and proceeding to a Record of Decision and implementation.
The purpose of the plan is to develop a blueprint that will guide the expansion, restoration, management, operations and use of the trail system and its associated amenities, over the next 15 years.
The FEIS evaluated eight alternatives for trail management within Cuyahoga Valley National Park, with Alternative 5 as the preferred alternative. The Final Plan presents a preferred alternative and the results of the public review of the draft plan and the NPS response to substantive comments which is included in Appendix D of the Final Plan.
The preferred alternative addresses the goals set forth in the Trail Management Plan while continuing the mission of the Park. The elements in the preferred alternative include an increase of 37 miles of trails from existing conditions, if fully implemented, including a new 10 mile off-road single track bicycle trail, trail facilities including expanded and new parking areas, introduction of launch sites for water trail access, and expansion of hike-in and paddle-in campsites. Additionally, the preferred alternative sets in place Sustainable Trail Guidelines to guide the restoration of existing trails and the sustainable management of all trails within the park for the future.
The National Park Service would like to thank all of those who participated in the planning process. We value the public's interest in the Cuyahoga Valley National Park.
Comment Period:
Closed 05/03/2013 - 06/03/2013

Document Content: