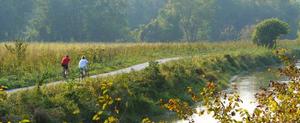 Draft Trail Management Plan and EIS
The National Park Service announces that the Cuyahoga Valley National Park Draft Trail Management Plan and Environmental Impact Statement (Draft EIS) has been released for public review and comment. The Draft EIS aims to develop a blueprint that will guide the expansion, restoration, management, operations and use of the trail system and its associated amenities over the next 15 years, while keeping with the purpose, mission and significance of Cuyahoga Valley National Park.
The 60-day public comment period runs until August 20, 2012. The Draft EIS analyzes eight alternatives that provide a variety of trails and trail facilities for visitors in the Park while protecting the Park's natural, cultural and scenic resources. The analysis includes consideration of trail facilities for trail-side campsites and kayak and canoe launch locations. The preferred alternative was selected that best meets the purpose and goals of the Plan and will best fit with the resources in the Park. The Plan is a key step in establishing a trail system that provides a trail network for a variety of trail users, shares the features significant in the Park, minimizes impacts to park resources, can be sustained for future generations, and engages cooperative partnerships.
A Newsletter is posted below outlining the complete review process for the Draft EIS.
An Executive Summary that summarizes the entire Draft EIS is also posted.
The complete Draft EIS consists of five Chapters, posted as individual files below. Appendix C and high quality maps are also provided in separate files. A brief list of corrections is also available.
The public is encouraged to submit comments using the "Comment on Document" button at the top of this page.
Comment Period:
Closed 06/19/2012 - 08/20/2012

Document Content: