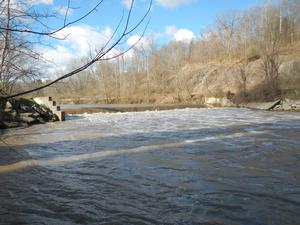 Ohio and Erie Canal History and Historic Structure Assessment
The purpose of this "Ohio and Erie Canal History and Historic Structure Assessment" is to consolidate and update information from previous studies in a single document that will guide future management of canal-related resources at Cuyahoga Valley National Park. The report provides a comprehensive history and inventory of canal structures with some general treatment recommendations as mitigation for the removal of two river dams. It integrates the disparate and sometimes contradictory information contained in previous studies, updates the historical sections to reflect the results of recent scholarship and current NPS standards, updates the architectural section to reflect changes in conditions that have occurred during the 25 years since the draft "Historic Structure Report: Administrative and Architectural Data Sections," and expands that survey to include other types of canal structures for which NPS has management responsibilities.
The Ohio and Erie Canal was one of the most important of America's 19th century canals, operating as a navigation system from 1827 to 1913. It originally was conceived as an extension of New York State's Erie Canal, part of a system that connected New York City and the eastern seaboard with the western and southern states via Lake Erie and the Hudson, Ohio, and Mississippi Rivers. It employed much of the same technology that already had been tested successfully on New York's Erie Canal. For these reasons the Ohio and Erie was in large measure conceived, promoted, financed, designed, and constructed by New Yorkers. When completed it provided a source of raw materials and agricultural produce for east coast cities and a ready market for the manufactured goods they produced, creating an interrelated regional economy. The Ohio and Erie connected a formerly poor and remote frontier region to distant cities and markets, establishing the foundation for Ohio's industrial, commercial, and political development. Although navigation ended with the devastating flood of 1913, numerous remnants of the canal in the Cuyahoga Valley still survive and retain integrity. The entire canal section in Cuyahoga Valley National Park is listed in the National Register of Historic Places, and the northern portion was designated a National Historic Landmark (NHL) in 1966; the NHL boundaries were expanded in 1983. The study will be precursor to a full Cultural Landscape Report to mitigate adverse effects to the canal landscape by guiding long-term management of the resource.
The document was funded by Ohio EPA and administered by Friends of the Crooked River for the National Park Service. Scott D. Heberling, MA, project historian and historical archeologist, was responsible for background research, field survey, and report preparation.
To receive this report in a format that is optimized to be accessible using screen readers for persons with visual or cognitive impairments, please email irma@nps.gov.

Document Content:

Ohio and Erie Canal History and HSA.pdf
(89.7 MB, PDF file)
Disclaimer:
Links within the above document(s) were valid as of the date published.
Note:
Some of the files may be in PDF format and can be viewed using the Adobe Acrobat Reader software. You may download a free copy of
Acrobat Reader
from Adobe Systems.