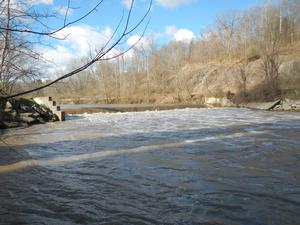 Cuyahoga River Ecosystem Restoration Canal Diversion Dam Project Environmental Assessment
The National Park Service, Cuyahoga Valley National Park (NPS) and the Ohio Environmental Protection Agency (Ohio EPA), in partnership with the US Army Corps of Engineers (USACE) and the Ohio Department of Natural Resources (ODNR), have considered a range of alternatives for the modification and/or removal of the Canal Diversion Dam in the Cuyahoga River. The dam spans the river between the City of Brecksville in Cuyahoga County and Sagamore Hills Township in Summit County, Ohio.
The Canal Diversion Dam (alternatively known as the Brecksville Dam, Station Road Dam, or the SR 82 Dam) is located in Cuyahoga Valley National Park (CVNP). This dam (183 feet long and nearly 8 feet high) feeds water into the Ohio and Erie Canal that then drains north through the CVNP and into Cleveland Metropark's Ohio and Erie Canal Reservation. The dam is owned by ODNR.
The Ohio EPA has concluded that Canal Diversion Dam negatively affects the water quality of the River and interrupts aquatic communities. These impacts result in the failure to achieve the goals of the Clean Water Act and the State of Ohio's Water Quality Standards. The Canal Diversion Dam project will identify an ecological restoration strategy to improve the water quality conditions of the Cuyahoga River while upholding the mission of protecting and preserving resource values of the Park.
The NPS, Ohio EPA, USACE and ODNR recognized the need to work together to establish procedures for timely disposition of issues or problems connected with the planning for the modification and/or removal of the Canal Diversion Dam. The agencies determined that the NPS is the lead federal agency with the Ohio EPA, USACE and ODNR as cooperating agencies with the responsibility to comply with National Environmental Policy Act (NEPA), the National Historic Preservation Act (NHPA) and other legal requirements.
Through interagency consultation and public involvement, the NPS and Ohio EPA have considered a wide range of alternatives to meet the project purpose and need and have subject three alternatives (Alternative 1, No Action; Alternative 2, Dam Modification; Alternative 3, Dam Removal) to detailed analysis. Because the Canal Diversion Dam and its predecessor, the Pinery Dam, supplied water to the Ohio and Erie Canal, a downstream portion of which is a National Historic Landmark (NHL), all action alternatives will maintain the canal in a watered condition. The NPS and Ohio EPA are recommending that Alternative 3, Dam Removal, is the alternative that best meets the project purpose and need.
Comment Period:
Closed 08/22/2016 - 09/29/2016

Document Content:

Cuyahoga River Ecosystem Restoration EA.pdf
(5.4 MB, PDF file)
Disclaimer:
Links within the above document(s) were valid as of the date published.
Note:
Some of the files may be in PDF format and can be viewed using the Adobe Acrobat Reader software.
You may download a free copy of Acrobat Reader from Adobe Systems.