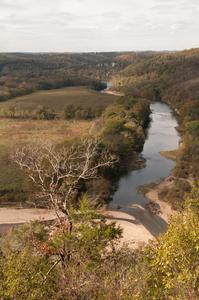 Tyler Bend Trails Plan Environmental Assessment
The National Park Service (NPS) is proposing to make improvements to the trail system at Tyler Bend, to allow more and different types of use. This Environmental Assessment (EA) evaluates two action alternatives. This EA also assesses the impacts that could result from continuing to maintain the existing trail system (no action alternative) or implementation of either action alternative. This EA has been prepared in accordance with the National Environmental Policy Act (NEPA), the NPS Bicycle Rule (36 CFR 4.30), NPS Director's Order 12, and 2015 NPS NEPA Handbook.
This Tyler Bend Trails Plan (Trails Plan) fulfills a park priority for facility asset management, resource management, and visitor experience at Buffalo National River and serves as a component of the park's planning portfolio. This follows the National Park Service's "Planning Portfolio" construct, consisting of a compilation of individual plans, studies, and inventories, which together guide park decision making. The planning portfolio enables the use of targeted planning products (such as this one) to meet a broad range of park planning needs. The general management plan remains a critical piece of the planning framework and will be revised in a timely manner through the park's planning portfolio.
Comment Period:
Closed 10/05/2018 - 11/06/2018

Document Content:

TylerBendTrailsEA 2018-10-05.pdf
(1.7 MB, PDF file)
Disclaimer:
Links within the above document(s) were valid as of the date published.
Note:
Some of the files may be in PDF format and can be viewed using the Adobe Acrobat Reader software. You may download a free copy of
Acrobat Reader
from Adobe Systems.