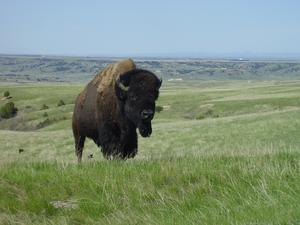 Badlands North Unit Bison Resource Stewardship Plan- Environmental Assessment for Public Review (Summer 2016)
Dear Friends and Neighbors of Badlands National Park,
I am pleased to announce the release and availability for review of the North Unit Bison Resource Stewardship Plan / Environmental Assessment for Badlands National Park, which explores options to expand the current bison range within the North Unit of the park. The plan will be available for review online at www.parkplanning.nps.gov/Badlands_Bison from Wednesday, July 13 to Friday, August 27, 2016. A limited number of hard copies and CDs of the plan are available on request by contacting Connie Wolf (Connie_Wolf@nps.gov, 605-433-5245).
Comments can be submitted electronically at www.parkplanning.nps.gov/Badlands_Bison. Select "Open for Comment" on the navigation panel to the left to provide your thoughts on the plan. Written comments can also be sent to the National Park Service, Denver Service Center—Planning, Attention: Sarah Conlin, PO Box 25287, Denver, CO 80225-0287.
Comments should be received by Saturday, August 27, 2016 for them to be considered in the plan. Before including your address, phone number, email address, or other personal identifying information with your comment, you should be aware that your entire comment—including personal identifying information—may be made publicly available at any time. Although you can ask us in your comment that your personal identifying information be withheld from public review, we cannot guarantee that we will be able to do so.
Four public meetings will be held to discuss this planning effort. Comments can also be submitted at these meetings.
Tuesday, July 26, 2016, 6:30-8:00pm
Outdoor Campus—West
4130 Adventure Trail
Rapid City, SD 57702
Wednesday, July 27, 2016, 6:30-8:00pm
Oglala District Community Action Programs Office
103 Thorpe Circle
Pine Ridge, SD 57770
Thursday, July 28, 2016, 6:30-8:00pm
Wall Community Center
501 Main Street
Wall, SD 57790
Monday, August 1, 2016, 6:30-8:00pm
Interior Community Center (in Interior Volunteer Fire Department)
117 6th Avenue (intersection of US 44/340)
Interior, SD 57750
Thus far during this planning process, you have been very engaged, and we thank you your interest. We hope that you will continue to stay involved with the park as we continue to seek your input on the North Unit Bison Resource Stewardship Plan / Environmental Assessment.
Sincerely,
Michael D. Pflaum
Park Superintendent, Badlands National Park
Comment Period:
Closed 07/13/2016 - 08/27/2016
Topic Questions Instructions:
Badlands National Park is soliciting public feedback on the plan / environmental assessment. This 30-day comment period will extend from July 13 to August 12, 2016. We invite you to review the information in the plan and offer us your comments. In particular, we would appreciate your responses on the following questions. Please use question three to provide any additional input you might have.
Topic Questions:
1. What proposals or aspects of the alternatives in the plan do you support, and why?
2. What proposals or aspects of the alternatives in the plan do you think could be improved, and why?
3. Do you have any other comments related to this plan?

Document Content:

BADL_North Unit_Bison Resource Stewardship Plan and Environmental Assessment_July 2016.pdf
(7.6 MB, PDF file)
Disclaimer:
Links within the above document(s) were valid as of the date published.
Note:
Some of the files may be in PDF format and can be viewed using the Adobe Acrobat Reader software.
You may download a free copy of Acrobat Reader from Adobe Systems.