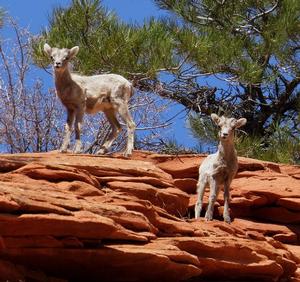 ZION Bighorn Sheep Management Scoping
Zion National Park, in conjunction with the Utah Division of Wildlife Resources, proposes to perform management actions on desert bighorn sheep within the Park. Desert bighorn, a native species, were previously extirpated and reintroduced to the Park in 1973, and have grown to a herd size of more than 500 animals within their habitat. Disease is one of the foremost concerns in bighorn sheep management. Contact between bighorn sheep and domestic sheep or goats can lead to outbreaks of respiratory disease and may have long-term impacts on bighorn sheep populations. Population declines have also occurred in the apparent absence of contact with domestic sheep or goats. Such declines have been attributed to factors including disease transmission from adjacent bighorn herds, high densities and related nutritional issues, human disturbance, loss of habitat, weather conditions, and infection with parasites. Active desert bighorn sheep management is considered necessary to reduce risk of disease transmission and catastrophic die-offs of bighorn populations. The objective of this proposal is to protect the established Zion bighorn sheep population following the Utah Statewide Bighorn Sheep Management Plan and the Western Association of Fish and Wildlife Agencies Wild Sheep Working Group recommendations. Most commonly, bighorn sheep population numbers are managed through hunting or transplant efforts. Hunting is not a legislated purpose of the Park, therefore a trap and transfer process would be one potential management option. The Park will prepare an Environmental Assessment to provide a decision-making framework that explores a reasonable range of alternatives to meet project objectives, evaluates potential issues and impacts to Park resources and values, and identifies mitigation measures to lessen the degree of these impacts. At this time, we invite you to help identify concerns and to express any ideas or comments regarding bighorn sheep management in Zion National Park.
Comment Period:
Closed 02/13/2014 - 03/19/2014

Document Content:

Bighorn_Public_Scoping_Notice_final.docx
(21.5 KB, .docx file)
Disclaimer:
Links within the above document(s) were valid as of the date published.
Note:
Some of the files may be in PDF format and can be viewed using the Adobe Acrobat Reader software.
You may download a free copy of Acrobat Reader from Adobe Systems.