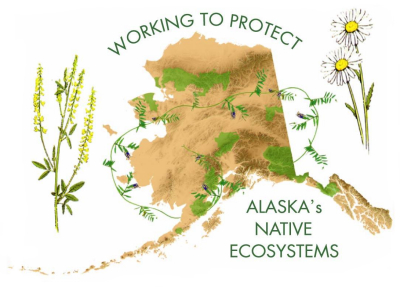 Alaska Region Invasive Plant Management Plan
The National Park Service (NPS) is considering an adaptive management plan to control invasive plants in Alaska National Park System units. An environmental assessment was written to evaluate the environmental effects of the proposed action plan and the no-action alternative. The NPS goal is to manage invasive plants in a manner to prevent adverse impacts to park resources and values while minimizing adverse impacts of the management efforts. The NPS needs a long-term management strategy to avoid invasive plant establishment and expansion on local or landscape levels as seen elsewhere in the nation.
The proposed Invasive Plant Management Plan (IPMP) would address invasive plant infestations in National Park System units throughout the Alaska Region. Invasive plants are defined as non-native plant species whose introduction does or is likely to cause economic or environmental harm or harm to human health. The IPMP uses a decision flow chart to select appropriate plant control methods, including physical (pulling, digging, burial, mowing, cutting, burning, and other heat treatments) and chemical (herbicide) treatments to eradicate or contain invasive plant infestations. Herbicides would only be used in small quantities and over small areas to control invasive plants not responding to physical control methods. The no-action alternative would continue to use only physical control methods to control invasive plant infestations, whether or not they are effective.
Comment Period:
Closed 08/29/2008 - 10/30/2008

Document Content: