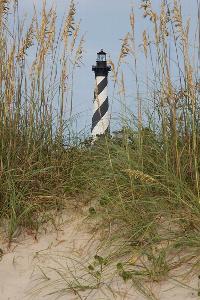 Environmental Assessment and Wetland Statement of Findings Feb 2023
Cape Hatteras National Seashore has prepared an environmental assessment (EA) to analyze the potential environmental consequences of alternatives for the construction of a new paved multiuse pathway in the Hatteras Island District and evaluates the effects of bicycle use, including electric bicycles, on a new trail.
The EA will describe impacts of proposed actions to the natural, historic and human environment in the project area. The EA has been prepared in accordance with the National Environmental Policy Act (NEPA) of 1969, as amended, and implementing regulations, 40 CFR Parts 1500-1508; the Department of the Interior NEPA regulations (43 CFR Part 46); National Park Service Director's Order #12 and Handbook, Conservation Planning, Environmental Impact Analysis, and Decision-making (NPS 2015); comply with 36 CFR § 4.30 (the Bicycle Rule); and Section 106 of the National Historic Preservation Act of 1966 as amended, and implementing regulations, 36 CFR Part 800.
In addition, the National Park Service policies for wetlands, as stated in 2006 Management Policies and Director's Order (DO) 77-1 Wetlands Protection, strive to prevent the loss or degradation of wetlands and to preserve and enhance the natural and beneficial values of wetlands. In accordance with DO 77-1 Wetlands Protection, proposed actions that have the potential to adversely affect wetlands must be addressed in a Statement of Findings for wetlands. A Wetlands Statement of Findings (WSOF) was prepared and is presented in Appendix A in the EA.
The review period for this document will end March 28, 2023. Comments will be accepted during the comment period through this website by clicking on the Comment Now link on the left side of this page or in hard copy delivered by the US Postal Service or other mail delivery service or hand-delivered to the address below. Comments will not be accepted by fax, email, or in any other way than those specified above. Bulk comments in any format (hard copy or electronic) submitted on behalf of others will not be accepted. Before including your address, telephone number, electronic mail address, or other personal identifying information in your comments, you should be aware that your entire comment (including your personal identifying information) may be made publicly available at any time. While you can ask us in your comments to withhold your personal identifying information from public review, we cannot guarantee that we will be able to do so.
Comment Period:
Closed Feb 27, 2023 - Mar 28, 2023